A real life dress by Caviar Gauche that I think will make its way into SL Fashion!
I saw this on the web and thought, this is the perfect wedding dress if any pornstars in our group get married!!
Its an actual RL dress by
Kaviar Gauche
! But I predict you will be seeing in Second Life fashion soon!
Here's the actual story after the break...
A little closer look
G-String Wedding Dress: Kaviar Gauche Gown At Berlin Fashion Week (PHOTOS)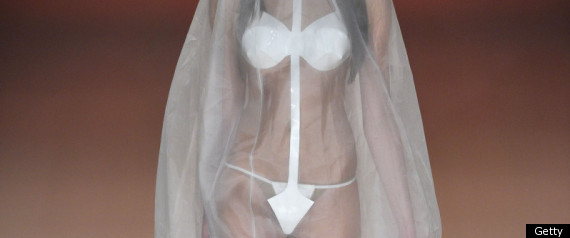 But at
Berlin Fashion Week on Thursday
, edgy German bridal house Kaviar Gauche showed what might be the most shocking wedding gown yet: a glorified g-string.
The gown resembles a
monokini-style swimsuit
-- essentially a bikini connected down the front with a thin strip of material -- and the model sporting the dress was ensconced in a floor-length veil.
Check out the dress below and let us know in the comments would you wear this dress?